How often do you look at someone's outfit and label it as a misfit with their shoes? Well, we're here to make sure this doesn't happen to you! We bring you four pairs of the best-matching sneakers and outfits to make sure you don't have to go through the trouble of matching them yourself.
The splatter paint pattern of the sneakers greatly complements the floral pattern on the dress above. Together, they make a powerful summer-wear pair that you can wear at any time of the day. It will look particularly stunning during the day-time when the splatter paint pattern of the sneakers can be easily brought out. The sneakers are incredibly comfortable to wear as well so you'll have a great wearing the dress with these sneakers.
A wonderful blend of black and white stripes with black and white sneakers! This outfit with that dress will give you the perfect casual look you need when going out for grocery shopping or when taking a trip to the mall with your friends. Stripes are pretty fashionable this seasons, which only makes this pair even stronger.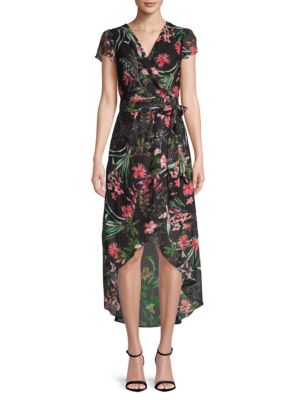 Okay, seriously, the dress and outfit look like they've been made for each other! This is what you call a match made in heaven. The print on the sneakers greatly complements and enhances the print on the dress, as if the sneakers were specifically made for this particular dress. It's perfect not only for a casual night out but also as a date-night outfit for when you want to skip those heels!
Yet another match made in heaven! These sneakers by Jimmy Choo are incredibly comfortable to wear and perfectly complement the chic and fashionable high-low dress by Joie above. With this match, you get simplicity, style, and comfort, all in one! You can wear this match to all sorts of casual hangouts, including casual date nights.
So, what are you waiting for? It's time to ditch the heels and settle for these comfortable sneakers instead!